We had this topic covered a long time ago, but I can't find it - lol

So here is a fresh version - as some new members inquired about it.
First of course - you take a screenshot, store it in your computer, adjust it, cut it paste it re-size it - whatever you like. The you ready to post it in the forum.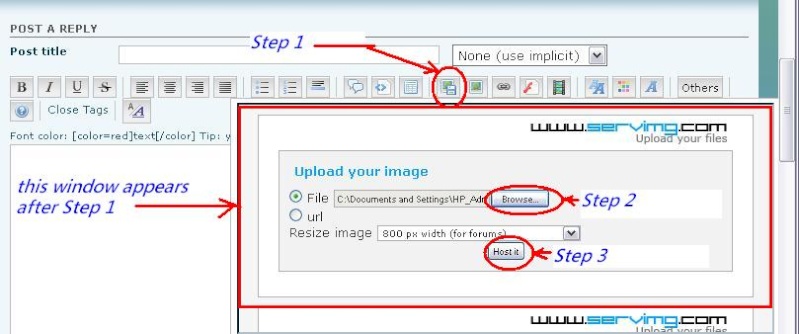 STEP 1
Click the icon shown, the window will pop-up
STEP 2
Click the "browse" button, and find your picture
STEP 3
Click the "host it" button , it will bring you the code you need in the window.
STEP 4
Right click anywhere in the area of the code shown, it will gray highlight the whole code, and select "copy" in the small pop-up window.
STEP 5
Place your cursor to where you want the picture to be posted in the main "posting screen" - and "paste" it
STEP 6
You can now - "Preview" OR - "Send" (send will post)... of course if you select "preview" you can edit more the text/code just make sure you post it - or else your work is lost (I have done that several times)
AND YOU ARE DONE
And here is a bit of EXTRA
You CAN - (DO NOT HAVE TO) remove (delete) the part of the code that is in the red box. It really does not do anything. If somone does click on the picture and the code is not removed - the advertising for the "picture uploader" pops-up. If the code is removed, the picture you have posted cannot be clicked on.

IF THE PICTURE SIZE IS A PROBLEM
you can adjust the size by inserting size information in the code - see sample below - the first number is related to the width the second to the height of the picture. Sometimes I try different numbers - look in preview - then try again - until it looks reasonable.


_________________
Remember to WIN WITH CLASS and LOSE WITH CLASS
---
Permissions in this forum:
You
cannot
reply to topics in this forum