Page 2 of 2 •
1, 2
OHHH NOOOOOOOO Just watched playing lose with AK to AQ - 4 places away form ITM


_________________
Remember to WIN WITH CLASS and LOSE WITH CLASS
Sorry team like JJ said I went All in with AK pre flop 3717 in chips got called with AQ Im out 54th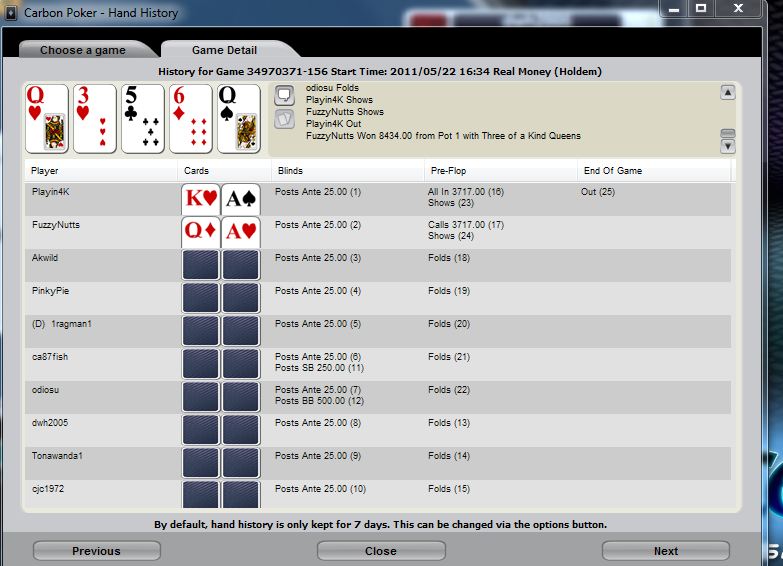 Playin4K




Posts

: 196


Join date

: 2009-10-08


Age

: 56


Location

: Merrimack New Hampshire



WOW

Here is how we did

MEGA CONGRATULATIONS!
Three from our team did make the money!!

and one was real close

Sorry I was not watching - got involved with a big game (did not get far)

SUPER WELL DONE SPIKE!!

31 … Sp1ike




38 … sissorhead




44 … Magooch


54 … Playin4K
81 … GOIVITcp
99 … vegasjj21
121 … gemixcb
142 … huntingfool
209 … MissusAce
251 … BulDawg4real
xx … 1FastMoFu
xx … ArjonCP*
xx … aurasant36
xx … dciassassin1*
xx … jolubx*
xx … KingDork (Buh_Buh)
xx … Loonzy
xx … minimouse
xx … scousemaster121
xx … Twostacks9* thetasl



_________________
Remember to WIN WITH CLASS and LOSE WITH CLASS
Yayyyyyyyy, great job!! Weeee Spike & Chipmunki & Magooch ITM. Sooo close Playin, that hurts too, but still a great game
I was soooo disappointed that I went out early I had to go & sulk. I lost a big chunk right at the start with JJ , just couldn't recover.
Sorry I wasn't around with my pom-poms.

crazylady

Master





Posts

: 3969


Join date

: 2009-10-06


Age

: 65


Location

: Kanata On



wtg to all in the money........great playing

Wish i could have played


Loonzy




Posts

: 269


Join date

: 2010-02-20


Location

: Ontario



Page 2 of 2 •
1, 2
---
Permissions in this forum:
You
cannot
reply to topics in this forum